Omg
Funny and Weird Food Combination Nigerians Have Created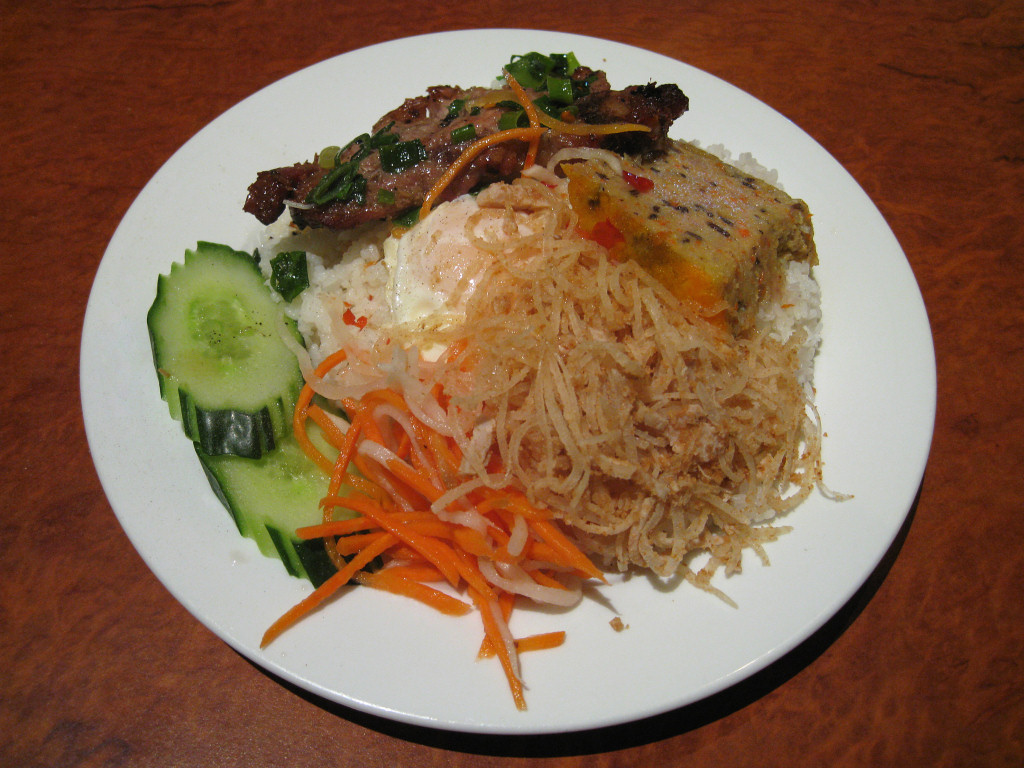 Nigeria is known to have numerous delicious delicacies. Each tribe in Nigeria has its own type of cultural foods and even some with symbolic meanings. For instance, the Igbos are known to be the owners of the native food Abacha, and in some places in the Igbo land, it is a significant meal which is given to visitors to tell them that they are welcome.
There is an endless list to the number of foods one can find in Nigeria. some of these foods have also been categorized. Some are known to be food for kids, other students food, and some food for the matured, and even foods for those watching their weights. Examples of some Nigerian made meals are pounded yam with egusi soup, rice and stew, jollof rice, coconut rice, fried rice, bitter leaf soup, Okra soup, garri, and lots more.
Some foods are just meant to go with each other as they are popularly known for their combinations together. Examples are Rice and stew, Bread and Tea, Yam and sauce. Nigerians who are known to be very creative at food combinations. And right now the combination of foods are no longer based on what is perfect or known but by the individuals taste yearnings and creativity.
Many of these combinations are funny, annoying, surprising and even irritating and most times enjoyed by only those who eat them. Some of the very popular combinations are: bread and okra, raw plantain with egusi, bread and pepper soup, Eba and Egg soup, Rice and palm oil, Bread and Close up, Pap and Okra soup, Indomine and Yam. And a host of others.
Some Weird Food Combinations in Nigeria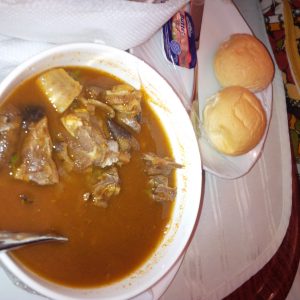 Below is a list of some funny and weird combination of foods that some Nigerians
BREAD AND PEPPER SOUP
It was shocking when I got served this in a very big event. I wondered what was behind the concept. As surprising as this combination sounds, many large hotels and caterers have fully included it on their food menu.
PAP AND OKRO SOUP
All hail those who are brave enough to pass this down their throat. It is an important task I do not ever see myself doing.
NOODLES AND BREAD
Aaaaah this is the number one student food for ladies especially. It tastes really nice I can tell of it. But why the combination of two carbohydrate food? This is malnutrition in the making.
EBA AND EGG SOUP
Seriously, the way people create meals is amazing. But for this particular one, it's irritating. Maybe they are trying to get the American lifestyle of eating something funny.
NOODLES AND EGG WITH CUSTARD
This is just being glutinous. Why can't they just wait and eat one after the other? Either custard and bread, or noodles and egg.
BREAD AND CLOSE UP
Close up is a paste which is manufactured for the sole aim of washing the human teeth. And also giving it fresh and better breathing. How the purpose of its production was drifted from teeth to bread is still a wonder.
BISCUIT AND VEGETABLE
This is also a food combination that still gets me thinking of what lead to the inspiration. What was in the mind of the person who started it.
EGG AND GROUNDNUT
This is a wrong food combination. The reason is everyone would definitely avoid you because the gas explosion from you can kill someone.
NOODLES AND YAM
This is weird. Noodles just take 5mins to cook, why add yam which would make it take a longer time. But on second thought it could be that the person has the yam already and is just trying to prevent waste of food.
GARRI AND SUYA
This is also another popular student meal, to keep the body and soul together.
RICE AND BUTTER
As far as nutrition is concerned, this is totally an in balanced diet. Carbohydrate gets one fat, and so does butter because it contains cholesterol.
BREAD AND LOCUST BEAN
Proteinous meal plus proteinous meal. What joy does this meal give? But then there is a saying that another man's food is another man's poison.
BREAD AND VEGGIE OIL
The veggie oil is fats extracted from seeds and sometimes fruits too. Veggie oil is usually liquid in nature and basically used for cooking various delicacies like Rice, Stew, Sauce and so many others. This oil is also used for frying Meat, Burger, Snacks, Fish, Turkey and a host of others. All of a sudden Nigerians left the produced butter meant for bread just to use oil. I wonder how they enjoy it because oil does not have any taste at all. And besides, if the oil being used is the type that has a high level of cholesterol, then such a person is bringing harm upon themselves.
GARRI AND FIBER ACTIVE
Oh Lord, this is really awkward for me. Fiber Active is actually one of the many biscuits in Nigeria. Students are most the people found of eating this food combination.
RICE AND OKRA SOUP
Okra is one of Nigeria's soup. Okra is also called draw soup because of the texture of the soup after preparation. Thinking about this combination I resulted in a conclusion that it is used when such a person does not have stew but have soup and just to save cash. The soup is just adopted to do the job of the stew.
BEANS/ SPAGHETTI AND BOILED EGGS
Beans and spaghetti is a very lovely and delicious food combination you should try. What I do not understand is why the addition of another protein giving food. This is an excessive intake of protein food.
GARRI/ BISCUITS AND COWBELL CHOCOLATE
This food combination is mostly done by female students. The worst is they feel "Tush" about the combination.
RICE/ YAM AND MOI MOI
I just tire for Nigerians at this point. This is a combination of three foods that have their own three different right combinations Nigerians refused to use.
KULI – KULI AND BREAD
This would lead to indigestion for me, but a lot of people combine these two together.
RICE/PALM OIL AND SALT
Yet another weird combination of food Nigerians eat. This our belle don hear am because Americans no fit try this one.
AGEGE BREAD AND GULDER
How did one think of such combination? I was surprised to see a drunkard doing this. Though I thought to my self that it could only be them.
RAW PLANTAIN AND OKRA
This is the height of it for me. If it was boiled plantain I could have taken it that the okra soup is the sauce to help digest the boiled plantain. But then it is raw plantain for crying out loud.
Closing Remark;
These are not yet all the weird food combinations in Nigeria, you could still discover more for yourself by associating with Nigerians. They are very interesting people and being around few of them could crack you up as well as give you a shock with the things they do.